The OD Beach Difference

The Best in Value & Service
The OD Difference...Vacation Rentals You Can Trust!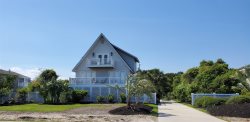 North Myrtle Beach is a heavily visited area, and there is a wide range of vacation rental options available to guests. However, not all rentals are created equal, and you can be sure that pricing and quality vary heavily across rental agencies.
At Ocean Drive Beach Rentals we pride ourselves on providing the best quality for the best price, and unlike many vendors in our area, we DON'T charge hidden fees at checkout!
We believe is fare pricing and transparency with our guests. All guests can be assured that when they rent with Ocean Drive Beach Rentals they will get all linens, towels and washcloths included. No extra fees for having a made bed upon arrival seems crazy but you would be surprised what other rental agencies charge for!
We also don't charge for your departure cleaning service or mandate accidental damage fees.
NO Credit Card Fees
In addition to not hitting our guests with loads of hidden fees, Ocean Drive Beach Rentals also covers credit card fees! These aren't charges we pass along to our guests like so many other companies in our area.
Fabulous service should be part of every vacation experience. Our caring, friendly & professional staff takes every effort from start to finish to ensure that you have the best customer service and worry-free trip possible.
If for some reason you don't love everything about your Ocean Drive Beach Rentals stay, we want you to reach out to us and let us work to make it right. Call us anytime, we are here to make your stay incredible.
Due to Covid-19 & social distancing the Endless Fun Club has been suspended for 2020 season. We currently plan to reinitiate this guest benefit in 2021. We apologize for the inconvenience.
As promised, Ocean Drive Beach Rentals does everything possible to make sure you save valuable vacation dollars when you're with family and friends in North Myrtle Beach. We think it's really important to enjoy our beautiful beach, and still have money in your pocket on the trip back to home, so we've teamed with top local vendors to offer you the best North Myrtle Beach discounts on activities, attractions, dining, and shops!
When you book your North Myrtle Beach vacation rental with Ocean Drive Beach Rentals, you'll not only be guaranteed a clean and well maintained rental home or condo at a great rate, but you'll also get all the added value of our Endless Fun Club. We've spent lots of time in the off-season to create special exclusive deals for our guests at popular area attractions, restaurants, specialty shops, and services. All of these top Grand Strand businesses offer family-friendly fun. PLEASE NOTE: THE ENDLESS FUN CLUB HIBERNATES IN THE WINTER AS MANY BUSINESSES SCALE BACK HOURS OR CLOSE.
How It Works
Just show your Endless Fun Club card (you'll receive one at check-in) when you pay for products or services at the following businesses, and you'll get the exclusive Ocean Drive Beach Rentals discount as shown. For a select few, you'll have to buy tickets in our office at 98 North Ocean Boulevard, Suite A. It's as simple as that!
We think it's important to keep the Endless Fun Club limited to only the best area businesses. Each participating business is specifically selected to enhance your vacation experience. More great businesses are going to be joining our savings program this year. Check back frequently to see more exclusive deals added for guests of Ocean Drive Beach Rentals!
---
All Rentals Include:
Starter House Supplies
Linens & Towels
Beds Made Upon Arrival
Departure Cleaning
---
NMB Discount Savings - Temporarily Suspended for 2020 Due to COVID-19
These are the Discounts Offered Through the Endless Fun Club…
Myrtle Beach Watersports — $4.00 OFF Sea Screamer Dolphin Cruise (Adult ticket); $4.00 OFF Sea Thunder Dolphin Cruise (Adult Ticket); $10.00 OFF 1/2 hour or 1 hour Jet Ski Rental; $20.00 OFF Jet Ski Dolphin Tour; $20.00 OFF Pontoon Boat Rental (All discounts off full list prices only.)
Hurricane Fleet Deep Sea Fishing — $3.00 OFF Dolphin Adventure Cruise; $5.00 OFF 1/2 Day Trip; $10.00 OFF Gulf Stream Trip
Mayday Golf — $2.00 off admission for up to 5 players until 5 p.m.
Ripley's Aquarium, Myrtle Beach — SAVE up to 15% (buy tickets in-office)
Wonderworks — Special discounted ticket prices
The Carolina Opry — Save $3.00 per ticket
Duffy Street Seafood Shack — $3.00 OFF every other dinner platter (limit to two offers per table)
Filet's — FREE 1/2 lb snow crab legs with purchase of 2 adult entrees
Hungry Howie's Pizza — 10% OFF total bill; 15% OFF for order $50.00 and up
Parson's Table Restaurant — 15% OFF total bill
Preston's Seafood and Country Buffet — 15% OFF total bill
Deckerz Bar & Grill — 10% OFF any appetizer
Hot Stacks Pancake House — 10% OFF your order (excludes specials)
Duplin Winery — $1.00 OFF a wine tasting
Beach Memories — 15% OFF non-sale items
Judy's House of Oldies — 10% OFF non-sale items
Additional Exclusive Savings
Guests who book more than one week of vacation with Ocean Drive Beach Rentals will be given 5% OFF each consecutive week's stay!
For example, if you book a three-week vacation with Ocean Drive Beach Rentals, you'll receive 5% off the second AND third-week rates. There are no restrictions as to which house or condo you choose; every property is included in this promotion. Just mention this exclusive deal and SAVE!
---
What More Could You Want?
Competitive Pricing!
No Hidden Fees!
Fabulous Service!
Endless Fun Club!
And NO Credit Card Fees!
That is the OD Difference!